Venue - preliminary
The workshop takes place at
Hotel Skaga
in Hirtshals, a town located in the northern part of Denmark, approximately 70 kilometres north of Aalborg.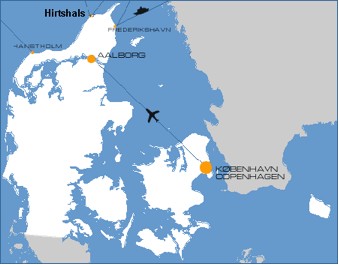 Transportation
By airplane
For the flight arriving in Aalborg at 15:35 on Tuesday 16th, there will be bus transportation from Aalborg Airport at 16:00. On its way to Hotel Skaga in Hirtshals, the bus will make a stop at Rubjerg Knude to give you the opportunity to enjoy the beautiful sandy hills right next to the west coast and the old light house that is almost completely covered by sand. The bus fare will be 50 DKK.
For the flights arriving in Aalborg at 17:05 and 18:15 on Tuesday 16th, there will also be bus transportation from Aalborg Airport. The bus leaves from the airport at 18:30, and will go directly to Hotel Skaga.
Bus transportation will be arranged on Friday 19th after lunch. The bus will arrive at Aalborg Airport about 1½ hours before the 16:00 departure to Copenhagen.
By train
There is a train stop about 200 metres from Hotel Skaga. Passengers to Hirtshals must change train in Hjørring and probably also in Aalborg.
Passports, Visa
For information about visa regulations, please visit the website of the
Danish Immigration Service
.
Currency
In September 2000 the Danes voted not to join the other European Union members in the Euro, and the currency is therefore still the Danish Krone (DKK), which is subdivided into 100 øre. Currently (17th of January 2008) 100 DKK corresponds to 20 USD and 13.43 EUR. Visa, Eurocard, Diners Club, American Express and MasterCard are widely accepted credit cards.
Climate and clothing
In September it is usually quite chilly in Denmark with temperatures ranging from 10 to 15°C. Warning for occasional showers.
---